Sometimes all you need to pull you through the after-lunch work blues is a jamtastic playlist (and maybe another cup of coffee). Here's what those of us at Pleth like to listen to when we need focus, energy or just some tunes to drown out the clacking of keyboards.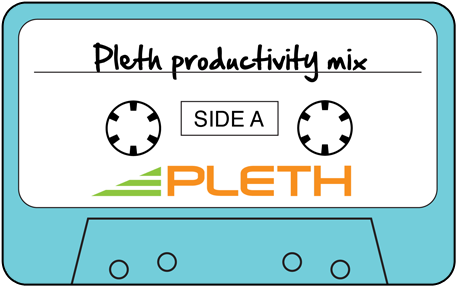 Craig
Lead Developer
Craig gets pumped up with metal and high-energy rock, but can also be found listening to the likes of Sara Bareilles and Joss Stone.
Favorite tracks:
Sara Bareilles - (Sittin' On) The Dock Of The Bay
The Ataris - The Boys Of Summer
Styx - Renegade
Blind Guardian - The Bard's Song
Greg
Owner
Greg loves anything by Mumford and Sons and anything classical.
Favorite tracks:
Lenny Kravitz - Are You Gonna Go My Way
Lanny
Web Developer
Lanny tends to stay away from mainstream music, but loves modern big band jazz, orchestral and wind band music. Because he finds songs with lyrics distracting, he prefers to work to instrumental pieces and occasionally can be found listening to a choral piece in a foreign language. Oh, and he loves Weird Al Yankovic, but only during downtime (lyrics are distracting, remember?).
Favorite tracks:
Pat Metheny - Minuano (Six Eight), arranged for big band by Bob Curnow
Pat Metheny - The First Circle, arranged for big band by Bob Curnow
Er'cana Harvester from Uru: Ages Beyond Myst
Credits from Super Mario Galaxy 2
Sam
Content Developer
Sam is really passionate about music! During work hours he's most likely listening to electronic and dance music from DJs like Tiësto, Morgan Page and lots more. But he also is a huge fan of Belle and Sebastian, Nina Simone and Joni Mitchell, and loves dream pop from artists like the Cocteau Twins and Washed Out.
Favorite Tracks:
Carla Bruni - Quelqu'un M'a Dit
Moby - Live for Tomorrow
Feist - Graveyard
Kings of Convenience - I'd Rather Dance With You
Stephen Smart
Owner
Stephen, or "Kegal" as he's known around the office, listen to classic rock bands like The Eagles, Eric Clapton, The Beatles, AC/DC, Jimmy Buffett, Joe Walsh, Meat Loaf, Led Zeppelin, Pink Floyd and Tom Petty. But he also likes The Black Keys, Sonia Dada, Nickelback and Collective Soul.
Favorite Tracks:
Eagles - Life's Been Good
Led Zeppelin - Stairway To Heaven
Guns N' Roses - Knockin' On Heaven's Door
Steven
Creative Director
Steven likes listening to NPR and subscribes to over 120 tech and gaming podcasts like This Week in Tech, Tech News Today, The Talk Show, Buzz Out Loud, The Shaft, YogPod and East Meets West. When he does listen to music, he tends to stick with fast tempo and lots of bass.
Favorite Tracks:
Excision - Existence VIP
Ajapai - What Do You Hear?
Cults - Go Outside
Funeral Party - New York City Moves to the Sound of L.A.
Cotton
Owner
Cotton joins Kegal in his love for classic rock. But he also has a softer side, listening to tunes from Alanis Morissette and Amy Winehouse.
His favorite artists include Grateful Dead, Van Morrison, Moody Blues, Pearl Jam, Amy Winehouse (cried when she died), Everlast, Muddy Waters, Lightning Hopkins and Bruce Springsteen.
What are you listening to? Let us know!