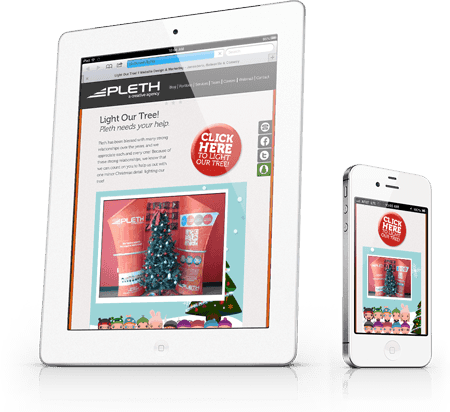 Happy holiday greetings from all of us at Pleth, where this fun group is continually experimenting with web technology, marketing strategies and our own creativity. This Christmas we resolved to put them all together for a unique, useful and joyous project aptly titled the "O Christmas Tree Experiment." In a nutshell, this project allowed clients and visitors to our website to view the festively decorated tree at Pleth and actually light it up.
First, we set up live HD webcams facing our tree, which monitored and broadcasted live feed to pleth.com. Then we built a custom landing page on which an enticing button prompted visitors to "click the button to light up the tree."
Unable to resist, a visitor would click the button at which time JavaScript would send a trigger to Twilio, which in turn sent a text message to IFTTT.com. This triggered a Belkin WeMo remote switch connected to the Pleth WiFi in our office and voila—the Christmas tree lights would turn on for a few seconds!
Of course, everything we do here at Pleth is designed to help us better our business and yours, so each request to light the tree was logged at IFTTT.com and Google Analytics. The experiment was live for two weeks. Holiday cards were sent out the day after the "live tree" was ready. Three days after clients received the holiday cards, the link to the landing page was made available to the public via Twitter and Facebook and a Christmas tree icon linked to the landing page was placed on the Pleth homepage.
Now for the really exciting part—the results!
Pleth's "live tree" was lit up over 800 times in just 14 days, an average of over 50 times a day. The page itself received 356 views with an average of two minutes and 51 seconds per view. While on pleth.com, visitors browsed through other pages, generating 273 additional unique page views to the Careers and Portfolio pages.
In addition, the photos captured by Pleth staff and posted on Facebook were seen by 1,190 people—43% higher than our other posts during the same time. And in addition to that, our "likes" on Facebook increased by 10% and our reach on Facebook by 76% during the experiment.
O Christmas Tree! O Christmas Tree! Thy candles shine so brightly!
During this project, our candles (or lights) did shine brightly as did our faces, but for two different reasons: 1) the desire to light up our tree showed us your interest in what goes on in our office and 2) the results brought us great joy in confirming that what we do is both interesting and fun for our current and potential clients.
Thank you for all who took part in not only brightening up our tree, but also brightening up our holidays!