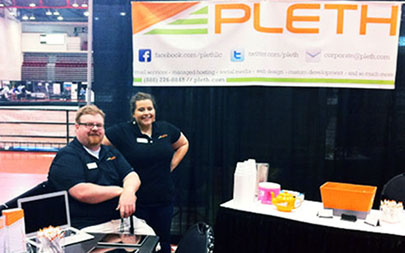 We had the pleasure of spending our day yesterday at the Jonesboro Business Expo hosted by the Jonesboro Chamber of Commerce. This was our first time attending this expo and due to our growth in the Jonesboro, Ark. area, we were very excited to meet new businesses, connect with old friends and enrich our relationships with current customers. Greg Smart, Steven Trotter and myself arrived promptly at 7 a.m. and spent the morning greeting those who stopped by the booth and spent time with some of our friends around the expo. It was great to see everyone having fun with the rock theme and networking across the Convention Center.
Among those who we saw at the expo were our friends at the Arkansas State University Small Business and Technology Development Center—we stopped by their booth where they were giving away free Quickbooks training and discussed some upcoming workshops we will be doing over at ASU including Blogging for Business and Mobile App for Business coming up this summer.
At our booth we brought the tea with us and enjoyed a cup with our friends at Master Print Group and many others who stopped by the booth. The best part of our day was talking to potential and existing customers about the latest in technology and web development.
If you didn't make it to the business expo in Jonesboro this year, then we have to recommend this event to you. It was definitely worth the time and effort that goes into attending a business expo and we are really looking forward to next year. Stay tuned for more upcoming events in the next few months!