Influencer Marketing has changed the game for companies around the globe. With thousands of followers on varying social platforms, influencers are able to advertise in a unique way that presents as more genuine and reaches a far more targeted audience. This approach is more effective than some traditional marketing approaches (ie. direct mail, billboards, interactive adverts). Though today's influencers are not the same as those from 5 years ago, Influencer Marketing isn't going anywhere any time soon. Should you consider adding this as an option for your digital marketing strategy? Let's dive in.
Understanding Influencer Marketing
Influencer Marketing uses the talents and creative abilities of individuals with large followings on social channels to endorse or advertise your brand, product or service. 
There are 2 types of influencers: Top-tier and Micro influencers. 
Top-tier influencers are considered to have over 1-million followers on a singular social platform. 
Micro influencers have less than 2,000 followers, but they have a more loyal and trusted audience. 
While both have shown to increase consumer buying behavior, according to a nationwide survey by ExpertVoice, 82% of consumers are "highly likely" to follow the recommendations of a micro-influencer.
82% of consumers are "highly likely" to follow the recommendations of a micro-influencer. 
ExpertVoice
How do I incorporate this into my marketing strategy?
If you are interested in using influencers in your digital marketing strategy, an agency can help navigate you through the selection process, as well as the process of implementation. Here are a few important steps to keep in mind when creating a strategy:
Choose Your Platform
Knowing where your customers consume information is critical for choosing an influencer. Each platform is different, and so are the influencers on them. Some popular platforms are: YouTube, Instagram, Twitch, and Facebook. 
Identify Your Influencers
Focus on your consumers, not on the influencer. Make sure that your target audience can be reached with the influencers you choose to represent your brand, product or service. Researching is essential to finding the perfect influencer for your business.
Determine a Budget
If you have the ad-spend for a Top-Tier influencer, you have the potential to reach over a million consumers. If you are looking for a more cost efficient, yet effective, influencer, go with Micro influencers. They have proven to be 6.9 times more efficient per engagements than influencers with greater followings.
Contact Your Influencer
The type of influencer you need will depend on how you approach them. Micro influencers, for example, would prefer being messaged directly, while Top-Tier influencers include contact information for business inquiries in their social profile bios.
Is it right for my company?
If you are marketing directly to consumers, then most likely there is an influencer strategy that will fit your needs. As you can see in the infographic below from Sprout Social, 89% of marketers say that return on investment (ROI) from influencer marketing is comparable - or better - than other marketing channels. If you start using influencer marketing to beef up your strategy, you can potentially reach many more consumers for far less than traditional advertising.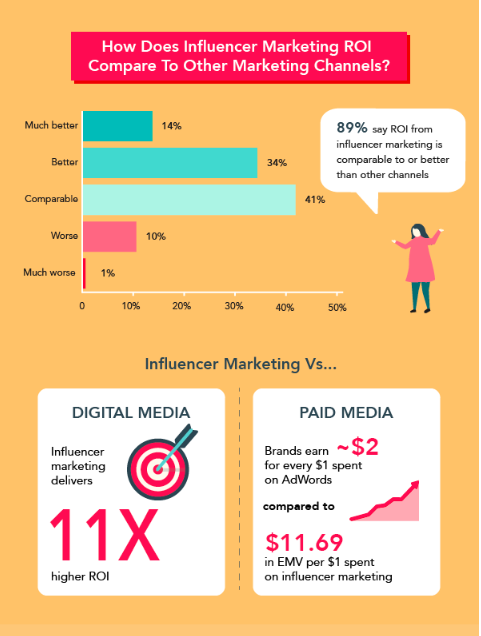 45% of organizations are planning or have already adopted this for their digital marketing survey.
Hootsuite's 2019 Trends Survey
With influencer marketing on the rise, maybe it's time to consider it for your company. There is sure to be an influencer out there that will be a good fit for you and your company. If this all seems overwhelming, or you want help managing and tracking results, send us a message. We'd love to help!