Facebook Questions has been in beta for several months now, but it has been released for everyone to use this week. This feature allows individuals to pose a question to their connections on Facebook about any topic. From there the questioner's peers will be able to answer the question and provide helpful resources and links. Facebook Questions can be used by individuals or Facebook pages to gain valuable information from the people who you are closest to (according to Facebook anyway).
Once you're on the Facebook Questions page, you can start thinking of ways you want to interact with those who follow your brand. You can pose a general question that allows anyone to respond with open-ended answers or you can create a poll and monitor the feedback.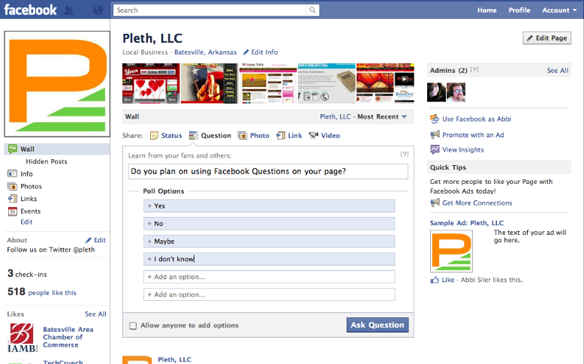 Using Facebook Polls for Business
The ability to use polls on your Facebook page can be a great way to keep people interacting with your business and better spread your brand across the web. You can create a poll within the Facebook Questions feature on your page by selecting Add Poll Options when creating your question. After selecting this feature you will then be able to create custom fields for your poll. Don't make the poll too complex—you will want to keep it short and simple.
A few ideas for what type of polls you can administer on your Facebook business page:
Customer service polls
new product/services polls
industry myth polls or consumer trends polls.
Using these polls you can better understand where you stand online in these areas and then take the opportunity to resolve any negatives or welcome the positive feedback.
We hope this blog post was helpful. Head on over to the Pleth Facebook page and take a moment to take our poll!