Saturday night, February 23rd, we attended the 2013 ADDY Awards Gala at the Jonesboro Country Club. The night was filled with success and honors as our team took home 8 professional awards and 6 student awards and 1 costume award.
Our professional awards consisted of:
Gold ADDY for the Pleth Website,
Gold ADDY for the Pleth Space Poster,
Silver ADDY for the Armor Seed App,
Silver ADDY for the Pleth Window Graphics,
And Bronze ADDY's for the following: White River Health System Website, Nettleton Concrete Website, Pleth Promotional Campaign & the Greenbrier Chamber Website.
We are so honored to have been recognized for our hard work and dedication.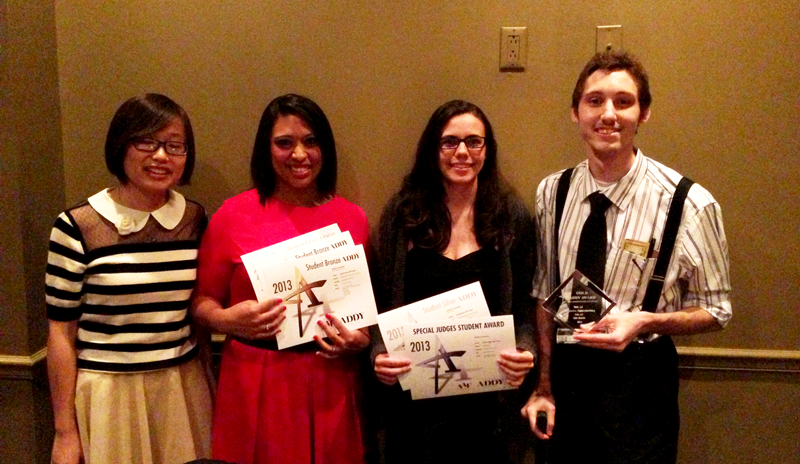 We are very grateful to have such a talented staff of creatives who brought home 6 student awards on Saturday night. Brittany Foster, Shanshan Ai, and Matt Smith received a gold ADDY for their efforts in the highly acclaimed Downtown Jonesboro Campaign for the Downtown Jonesboro Association. Janie Walter received a silver ADDY along with a special judges student award for her Janie Walter logo. Brittany Foster received a silver ADDY for the Caution Brewing CO. Can Series, and bronze ADDY's for the Cayman Islands Campaign & Fashion Advertising.
The ADDY Awards Gala also hosted a Mad Men: Don & Betty Draper contest. Our very own accounting manager Lauren Geurin took home the award for the best Betty Draper!
Congratulations to our talented team!