If a picture is worth a thousand words, then Google's latest ad format is sure to be a hit among advertisers and consumers alike. Recently, the company revealed an ad format coming out later this year that will add a visual component to Google Ads.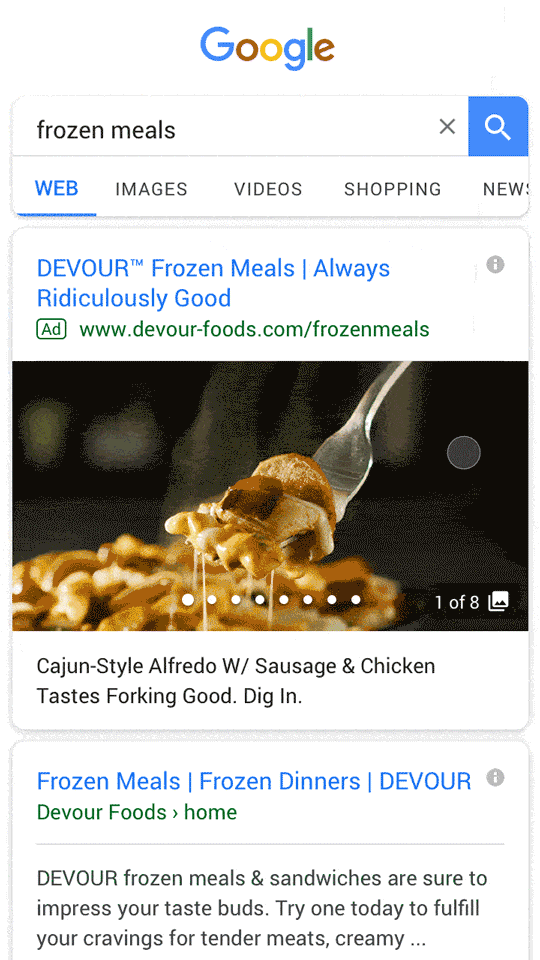 New Opportunities
The up-and-coming Gallery Ads will offer businesses the chance to better communicate their brands to consumers. Gallery Ads are large carousel-style images that users can swipe through, just like those already in use on Facebook and Instagram. Available only on mobile for now, Gallery Ads will appear in the top ad spot above all other text ads and search results.
Ads will consist of four to eight images with a 70-character description and up to three headlines. Additionally, each image may include a tagline or caption that changes when a user swipes, while the headline and description above the images remain static.
Payments
To keep the payment method similar to text ads, yet compensate for the new format, Google offers two ways to charge for Gallery Ads: 1) pay-per-click, just like text ads, or 2) pay-per-swipe, meaning a charge occurs once a user swipes three images. In the case that a user swipes through three or more images and then clicks, only one charge will occur.
How to be #1
Advertisers will be able to add gallery ads to their current ad groups, and if a top position is won in the ad auction, the Gallery Ads will appear at the top of the page. Because Gallery Ads compete with regular text ads for ad position, only those winning the top spot will appear. If you have added Gallery Ads to your account but come in second in the ad auction, a text ad will appear rather than a Gallery Ad. Still, once your Gallery Ad appears a few times, the likelihood of engagement is much higher, thus creating the opportunity to increase your score in future auctions.
Effectiveness
Early testing of Gallery Ads has revealed a 25% increase in user engagement over regular text ads. While the direct conversion rate might not increase much, if at all, Google execs claim that the images leave a longer-lasting impression that may result in non-click conversions or affect buyer behavior farther down the line. Carousel ads are already working on Facebook and Instagram, so users are familiar with the format. Plus, ads with images make much better impressions than text-only ads.
New ways to reach consumers always excite us, so we recommend checking out Google Gallery Ads as soon as they're available. The only risk involved is the same with a text ad—an ineffective ad—and the reward is getting a jump on your competition.
To make sure your Google Ads are effective, give us a call. We can choose, or even take, photos that best represent your brand as well as write your headlines, descriptions and taglines. We're also here to help you manage and track your ads if you want to take advantage of the new ad format but don't have time for a learning curve. Just keep an eye out for the Gallery Ads launch date and then call or email us to get started.